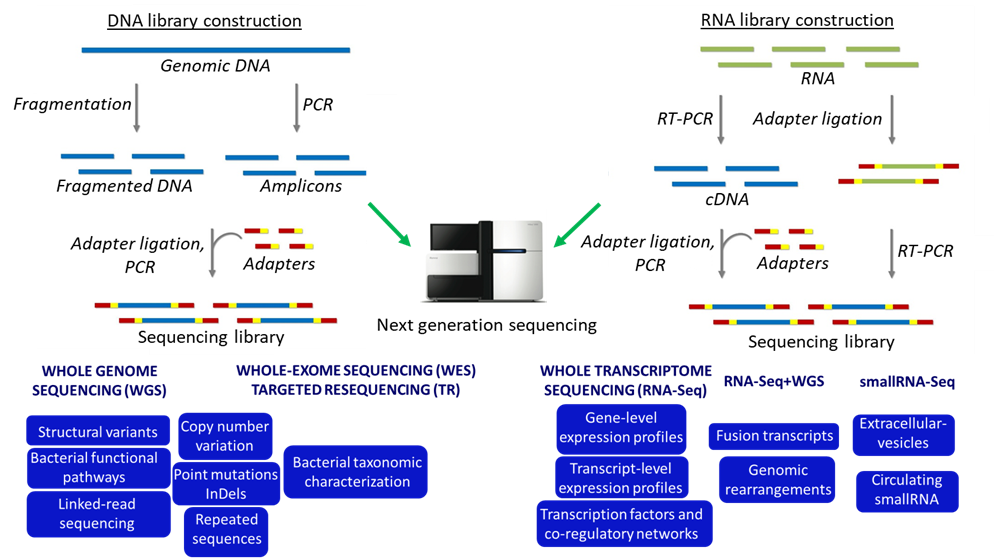 The laboratory of Genomics has a long-standing high-level expertise in the study of the genome by sequencing, mapping and analyzing all genes in a cell, working on a large scale by systematic approaches, the so-called "high-throughput" technologies or next-generation sequencing (NGS).
These NGS-based "-Omics" approaches (Genomics, Transcriptomics, Single-cell analysis, Metagenomics and related Bioinformatics) are applied in order to investigate the molecular mechanisms and interactions involved in health and diseased states.
The Genomic Unit is involved in molecular studies addressing genes at several levels, starting from their base sequence (polymorphism and mutation analysis) and chromosomal re-arrangement (numerical and structural aberration analysis), to, then, expand towards the investigation of their expression, function and reciprocal interactions within the complex network of molecular processes characterizing any biological system ("functional genomics").